Gold Rush - The Smashing Red Carpet Look
12 red-carpet shoes to go with my new limited-edition shiny
gold Pamela dress
by local dress-genius Narcissist Design (fortunate Vancouverites can go and snatch these on Main street, while they're still on sale):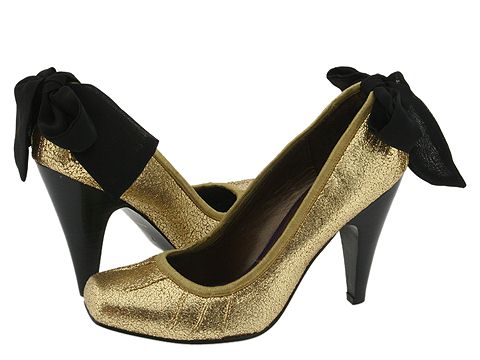 typeZ Noel in gold
$109.95
Class meets kink and the dark bows makes them go well with that dark gold dress of mine.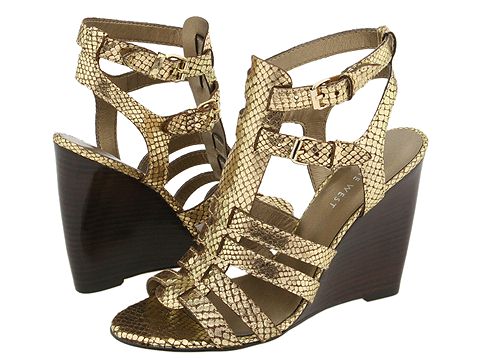 Nine West Heech
$92.95
What can I say, these are just HOT!
I'm gonna look for them in a real store this weekend, they have to be tried on with that gold dress on - a perfect match if you ask me.
Marc by Marc Jacobs 673929 in Bronze Silk Nappa
$233
These 4.5" platforms look solif and comfortable with their bold mix of kink and class. I want them, and I want them NOW!
* I'm size 7.5 BTW, in case you have an extra pair on hand that you can't figure out what to do with ;)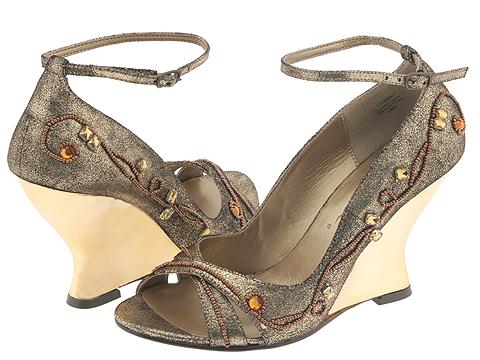 J. Renee Cameo in gold (bronze?!)
$98.95
- Kinky wedge heels, trashy glamorous rheinstones that only their brownness saves them from tacky-dome... And also go fabulously well with my rheinstone beret that would go well with the dress as well... The open toe has a promise of wearability, as I find it a lot easier to wear open toed high heels, especially with that restricting kind of wedge.
Jessica Bennett Gesine in gold
$125.06
- Sexy wedge heels and a more severe/less playful look than the rheinstoned wedges
Donna Karan 873946 in golden suede
$315
- Classy, soft, almost romantic. I have to say what I like the most about them is the suggestion of gold without much shimmer, plus the ribbon that could be tied and played with in many different ways. It could easily go with my beige obsessed wardrobe as well, elbeit the very undoable pencil thin heel.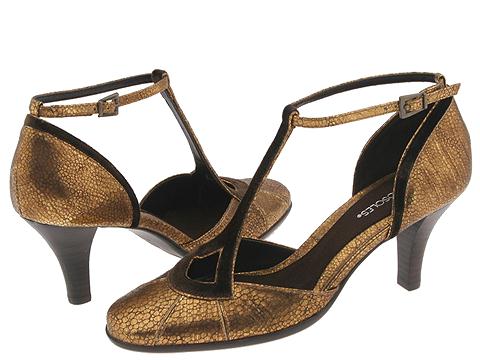 Aerosoles Sweet Part in Gold Combo (again, the kind of gold that would easily pass as a bronze - which is to be said about the dress I picked as well...)
$83.95
- These look like tango shoes, exactly my cup of tea. And if I could dance in them, all the better, especially with that price tag.
J. Renee Fluent in gold
$88.95
I like the fact that they are low heel and slingback (potentially, they might even be comfortable!) and could transfer easily from casual to more dressy occasions... The little jewel is what made them stand out for me though.
Circa Joan & David - Kylie in gold leather
$92.95
Free spirited bronze toned stilettos adorned with coined foot jewelry. Aside from the obvious discomfort, I see no reason for not liking them.
Robert Cavalli L70036 in gold (well, that's the only colour available if you look for anything else!). These are a mere
$1,283.95
(as opposed to $1,284 - I guess there is something to be said for saving 5c...)
Yes, it's hard to believe I'd fall for something that screams mafia-wife so loudly, but this pair has something about it that is utterly tasteful albeit shamlessly glamorous, tastefully kinky and wild and at the same time oh so pretty! Just imagine them on a pair of long tanned legs (not mine of course;) wrapped in smooth fabric, hmmm...
Martinez Valero Bella in gold mirror
$142.95
- Dunno if I could pull-off this heel height, but the front diamond leaves are drop-dead eloquent! The bronze tone also prevents these from the trip down tacky slide...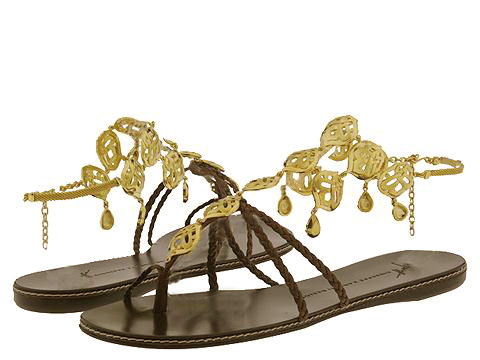 Giuseppe Zanotti Design - E6223 in braided brown with gold chain
$298
- These are just plain fantastic combination of the mudane with the glamorous.
The following two extra pairs I found while looking from glamorous red-carpet shoes. These are a bit more on the casual side, but I still like them and figured I should let you know about them while I'm at it: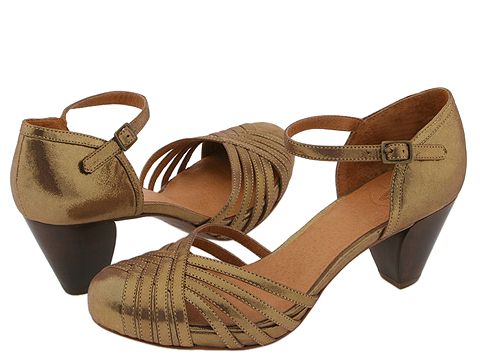 Frye Lisa Maryjane in gold (looks more like bronze if you ask me...)
$161.95
Bordering on the casual side, but I just couldn't help noticing their captivating simplicity. And the bronze colour, of course. If it wasn't for the bejewled and braided similar type of sandals from Giuseppe Zanotti I would have taken them a tad more seriously...