Gold Rush Nail Polish
Gold rush nail polish, again from gold miner Lise Watier, and shoes to go with it: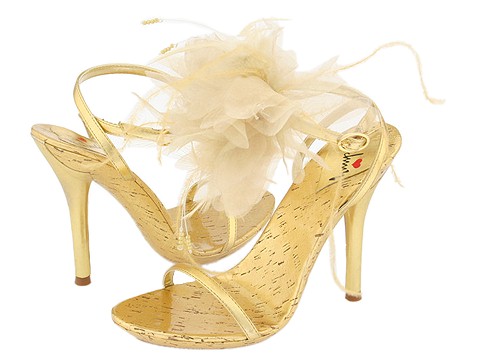 Luichiny Minx in gold of course
$92.95
Well, that's about as froufrou as I can ever see myself going...
Onex Broadway in platinum
$93.95
- Sorta Middle Easter or maybe East Indian inspired? I'm not a huge thong wearer, and definitely not high heeled slip-ons, but these have something about them that I just like...
Nina Gelato in gold
$98.95
- Well, this could be straightforward tacky. However, I like the T strap and I like the ankle strap too. Along with the rheinstones all over the place, these are as glamorous as a shoe could be, without over doing it (I think). And the heel is
only
3", can you imagine the comfort?!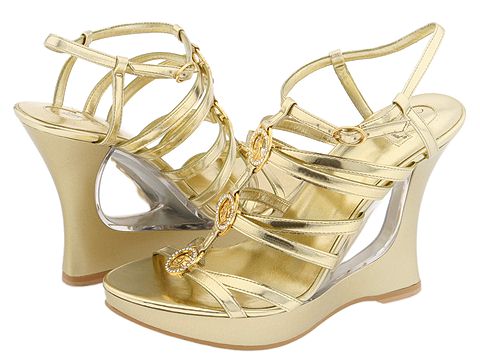 Baby Phat Soft Cat in gold
$73.95
- I really like the heels on this pair. Otherwise they would be overly tacky...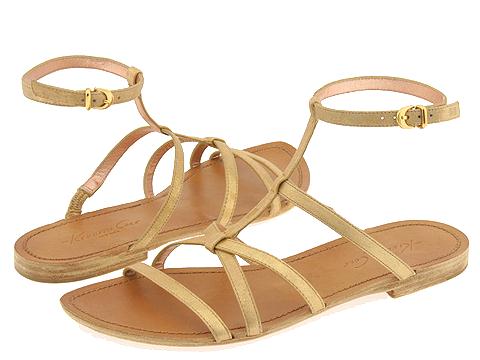 Kenneth Cole Py-Baby in gold
$138.56
- Gladiator sandals gone glamorous in the most subtle and sweet way. These can be easily dressed up (evening gowns) or down (shorts and tank top). Let's just hope the sole is as flexible... I often find sandals from this genre to be very stiff...
And the following which are not open toe, so the pedicure won't show... But I couldn't help noticing them and had to share ;)
Baby Phat Mulberry
$99.95
- Don't you just love these charms? I think the lock has captured my heart ;)
Bobbi Blu Unveil in light gold metallic leather
$82.95
- These remind me of Flamenco shoes. I think they'll look equally great with a pair of jeans or a tiered skirt.
Getting tired of all that gold? Do you think I've turned into Midas with a gold touch?
Well, don't worry, this phase will be over soon, at least on my blog that is... Next posts will have a completely different colour as I try to find a matching purse to my gold dress and bronzed shoes... And also you're gonna get a sneak peak into my wettest fantasies for footwear this spring!
Labels: Gold, Nail Polish, Shoe Pics